As you move into 2019, honor yourself –invest in your BEST LIFE and take the challenge to commit to a container of support either in Take The LEAP group coaching experience or a Mastermind Group.
Take The LEAP Coaching Program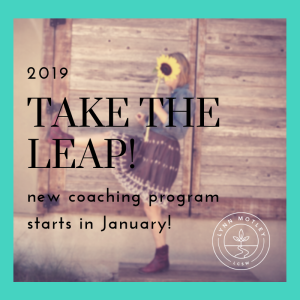 Don't forget to live your life!
Is there something that is calling you?
Are you listening?
Maybe an itch or even discomfort or pain that is inviting you in to discover more in life.
Dream It.
Be it.
Live it.
Take a step that will help move you into a new playing field…..Go ahead and ASK!
Ask for… a promotion or raise, transition to a new career, a new fulfilling relationship, a bold move to radically connect more deeply with what you care about…something that wants to be born in you.
"You miss 100% of the shots you don't take!" Wayne Gretzky
Come and join me in a coaching program to help you "up your game"– by accessing what you want to be LIVING & EXPERIENCING, creating CLARITY and accessing your BEST self with ACTIONS to support you in moving and grooving….taking the next step!
How does that sound? YES!
Join me in an intimate and unique coaching group offer to support and assist you in ACCESSING and TAKING STEPS to stretch, reach in and access your BEST SELF and CREATE your dream life.
What
CLARIFY your desires

FOCUS on where you want to go

CREATE the energy and mood to support you

IDENTIFY blind-spots and obstacles

TAKE STEPS to connect you with the energy to get there

ENGAGE in practices and support to experience what you want
How
Join me for an 8 week coaching program that includes 6 coaching sessions, 1.5 hours for a small group of individuals who DESIRE to up their game and THRIVE!
Weekly emails with guidebook and practices to engage in daily.
When
Monday, January 7, 5:30-7pm

Monday, January 14, 5:30-7pm

Monday, January 28, 5:30-7pm

Monday, February 4,  5:30-7pm

Monday, February 18,  5:30-7pm

Monday, February 25,  5:30-7pm
Your Investment
$290.00
What you will receive
A container of support, motivation and accountability from others in the group

Opportunities to explore your desires, deepening and knowing yourself more fully

Practices to move you forward

Increased awareness of obstacles that you create for yourself

An empowered narrative to support you in moving forward

A guide book created for you by Lynn to support you in sustaining your vision and practices in-between sessions and after the program concludes to inspire you.

Opportunities to explore your learning outside of the group with meditations, weekly emails and a private Facebook group.
New Offering for those who have completed Take The LEAP Coaching Program!

Mastermind Group
"The real voyage of discovery consists not in seeking new landscapes, but in having new eyes." ~Marcel Proust

This offer is to provide a year long container to support you in staying connected, committed and creative with what you wish to create in your life in 2018!
The following is from Success Alliance (Karyn Greenstreet) website:
So, what is a mastermind group exactly?
Mastermind groups offer a combination of brainstorming, education, peer accountability and support in a group setting to sharpen your business and personal skills. A mastermind group helps you and your mastermind group members achieve success. Participants challenge each other to set powerful goals, and more importantly, to accomplish them.
Through a mastermind group process, first you create a goal, then a plan to achieve it. The group helps you with creative ideas and wise decisions-making. Then, as you begin to implement your plan, you bring both success stories and problems to the group. Success stories are applauded (loudly!), and problem are solved through peer brainstorming and collective, creative thinking.
The group requires commitment, confidentiality, willingness to both give and receive advice and ideas, and support each other with total honesty, respect and compassion. Mastermind group members act as catalysts for growth, devil's advocates and supportive colleagues. This is the essence and value of mastermind groups.
Each meeting has a mastermind agenda so that conversations stay on course. The Facilitator is tasked with making sure that conversations are deep and balanced, and that all mastermind group meeting agenda items are covered in the time allotted.
What a mastermind group is NOT
It's not a class. While your group can vote to bring in guest speakers and teachers occasionally, the main focus of a mastermind group is the brainstorming and accountability support among the group members.
It's not group coaching. Mastermind groups are about the MEMBERS sharing with each other, not about the Facilitator coaching individuals in a group setting. You get everyone's feedback, advice and support. Yes, if the Facilitator is an expert on the topic, by all means chime in. But keep the conversation balanced between all members.
It's not a networking group. While you may share leads and resources with each other, it is not the main focus of the meetings. However, through your connections with other members, you will find plenty of joint venture opportunities, lead sharing, and professional networking.
If this interests you AND you have completed the Take the LEAP Coaching Program,
 TTL Rookie Mastermind Group sign up here
TTL 2019 Mastermind Group sign up here