RATES
50 minute session
I have created package and prepayment options that allow you to save $10/session. If you choose the prepay option, you are "reserving" your next appointment by prepaying. Let me know if you have any questions.
Intake: $130.00 prepay here
Individual Therapy: $120/session pay as you go | $110 prepay session | 12 session pre-pay for $1200.00
Couple's Therapy 50 Minute Session: $130 pay as you go | $120 prepay | 12 sessions pre-pay for $1320
Couple's Therapy 75 Minute Session: $195 pay as you go l $180 prepay l $1,950 12 session pre-pay
Couple's Therapy 90 Minute Session: $234 pay as you go l $216 prepay l $2,340 12 session pre-pay
Individual Coaching Package: 12 sessions (approximately 3 months $1200 pre-payment or $120/session pay as you go or $110 pre-pay per appointment)
Single Session: $250/2 hour session- prepayment required
Preferred forms of payment: Venmo and Zelle.  Cash, Checks and Credit cards are accepted as well.
I have a limited number of reduced fee/sliding scale fee for clients who wish to participate in either psychotherapy or coaching. Feel free to inquire.
I believe strongly in "giving back" through service and financial donations. I donate a portion of my proceeds monthly to local, state, national and international charities: Doctors Without Borders, Together Women Rise, Lexington Carnegie Center, Art on the Move, Lexington Rescue Mission, The Nest, God's Pantry, Seedleaf, Save The Children to name a few. If you are a client and have a favorite charity, please let me know and I will make a donation that month!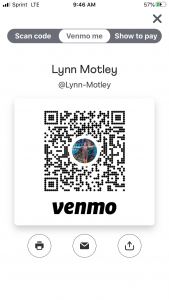 CONTACT ME