GROUPS / WORKSHOPS
I enjoy the dynamic energy and connection that groups offer individuals in both healing and learning.
Group learning is an augmentation to individual psychotherapy or a resource to support a deeper and more meaningful way to self-discovery.
Currently, I offer groups and workshops in the community:
An Introduction into your relationship with your Beauty-Full SELF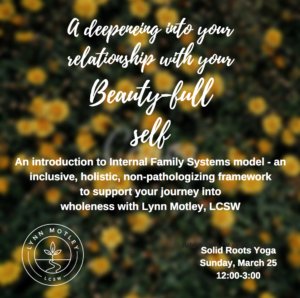 An inclusive, non-pathologizing, holistic model to support integration and wholeness.
What you will gain:
A framework for deepening your relationship with yourself
Experiential opportunities to "tap into" your "higher, wiser SELF"
Increase self-compassion and self-acceptance
Create more understanding of your "self-system" i.e. why you see things the way you do, why you do what you do.
Solid Roots Yoga Studio
Sunday, March 25, 12-4pm
Transforming Overwhelm into FREEDOM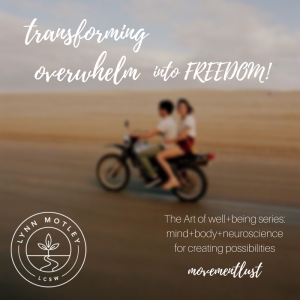 This workshop is for those suffering from OVERWHELM.
There are more opportunities and resources for anything we want, and yet we are craving more simplicity and ease in the hustle and bustle in the world today.
While we all get busy and have challenging moments, those suffering from OVERWHELM live in a constant mood as if there is no other choice.
Maybe you're getting more done, but feel depleted and not finding fulfillment in what you are getting accomplished.
Checking things off your lists, lists, and more lists. Emails piling up. Lots of busy-ness and yet you feel empty, stressed out and want to numb out.
No time for fun and to really get to do what you crave and long to do.
Chronic insomnia and sleep issues related to stress
Health Issues and pain related to OVERWHELM
What you will learn:
Shift how you look at overwhelm and develop a different framework for managing.
Identify and let go of old patterns and traps which are keeping you stuck.
Create a plan to assist you in aligning your time, energy and actions with what you care about.
Shift out of time management and into commitment management.
Create conversations to assist you in transforming overwhelm.
Use new distinctions to intervene with overwhelm in realm of moods/emotions, body and conversations.
Increase clarity and empowerment about what you care about in your life.
How to use overwhelm as an invitation to step into creativity and choice.
Boundaries 101: Embodied Boundaries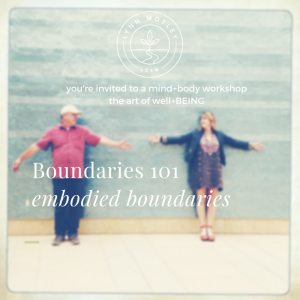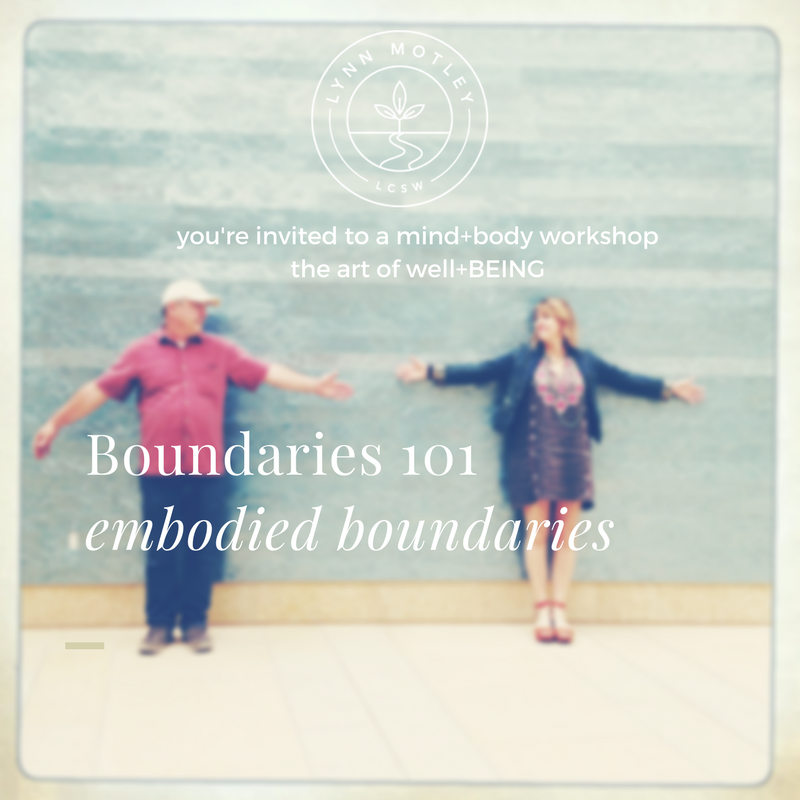 for those who experience the following:
Challenged in being authentic in your relationships
Challenged with saying "No" and feeling resentful afterwards
Compromising yourself and your needs
Chronic caretaking of others
Incessant guilty feelings when you've done nothing wrong
Allow yourself to be "bullied" by others wants and needs
Creating Possibilities: an exploration of neuroscience, body and mind+body practices to create alignment and well+BEING.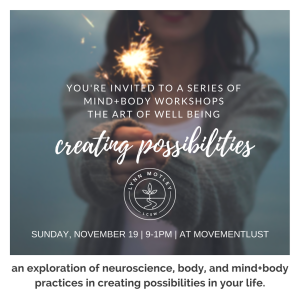 Safely Embodied: navigating the body's natural intelligence of the autonomic nervous system to support change.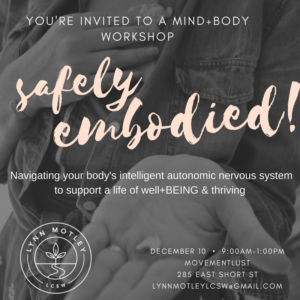 "Resilient Spirits: Courage Through Connection" –  a psychotherapy group based on Brene Brown's work
"Transforming Overwhelm Into Possibilities" – workshops
"Transformational Learning through body, moods/emotions, and language"