Soul Care SoulCollage® Sunday!
May 16, 2021 @ 4:00 PM

-

6:00 PM

EDT

$15.00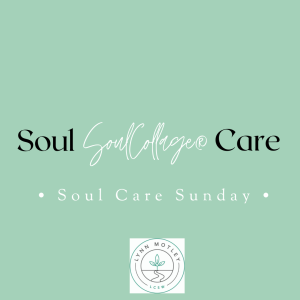 If you have completed the INTRODUCTION TO SOULCOLLAGE®, you can join monthly for our gathering to create your own sacred space, creativity and exploration of your life journey and share with other women on their journey. We learn so much from others cards and sharing!
SoulCollage® is a beautiful and intuitive self-discovery process accessed through collaging and card making. You create a deck of "your world" (inner parts and outer world) that can be accessed for daily readings and "working through" inner and outer conflicts. It is fun and accessible to anyone!
I have found this process transformational and am excited to create the space for you to play, discover and deepen your relationship with yourself so that you can know yourself more fully through accessing the inner-wisdom already within you.
Here are some ways I use my SoulCollage® Cards:
Working through emotions/experience to gain insight and expression
Readings of your cards to support personal guidance with decision-making
Exploring aspects of yourself and personality that have been ignored
Intuitive guidance- exploring an issue
Mapping out parts to learn more about yourself
Journaling with a card/part of us that needs more connection
Tracking your growth through on-going consultations around an area of focus
Here is some information you will need in preparation:
Please be on-time for our gathering! This is hard to coordinate in groups but it helps with the flow and the optimization of the experience. It is hard to manage folks coming in late and is disruptive to the flow of the experience, so try to log-on 5 minutes early, so we can get started at 6pm. ( :
Begin now to prepare for your experience – you are beginning to set yourself up for your experience right NOW, so start enjoying this part of the process as your investment in your SELF. Try to make it special and enjoy the little steps along the way.
Start to gather some pre-made images– magazines, flyers, calendars, anything that inspires you. I love collecting and connecting with neighbors and friends to gather their old magazines.
Find a cozy, quiet and comfortable place to spread out and place your magazines, images (calendars, cards, inserts) and supplies (scissors, glue stick). Create a space that will allow you to tune-in, listen and discover with minimal distractions (of course, this is challenging these days, but do your best).
Gather your supplies (scissors, glue sticks, card stock and images/magazines)
Here are some ideas for your base card (5×8 thick index cards, mixed media journal, spiral bound 5×8 index cards).
I use SoulCollage® sets that you can purchase here  –or you can make your own with a cereal, cracker box or any thin cardboard material you have on hand! 5X8 isn't absolutely necessary but we want to have similar sizes as we make our deck.
Find a journal and pen to use at the gathering.
Anytime Prior To The Gathering:
1. Begin to gather some images and make two distinct piles
Look through your images and find a foreground images…something to be a centerpiece – Find several that strike your fancy – anything that speaks to you; it doesn't have to make sense and don't think too much, just begin to gather a small collection of these. These will go in one pile.
Look through your images and find background images…something that will hold your centerpiece. Find several images and place them in the other pile.
2. PUT THEM AWAY UNTIL THE GATHERING! This is important. We will play with them in our time together; so don't think about this, just gather and put away.
The Day Of The Gathering:
Cozy up your space. Bring some snacks, tea, candles or anything that grounds you.
Make sure you have your scissors, glue sticks, card stock , journal & pen and images.
Find your Zoom Link and fire up your computer at 5:55/Eastern.