GROUPS / WORKSHOPS
I enjoy the dynamic energy and connection that groups offer individuals in both healing and learning.
Group learning is an augmentation to individual psychotherapy or a resource to support a deeper and more meaningful way to self-discovery.
Currently, I offer groups and workshops in the community:
Creating Possibilities: an exploration of neuroscience, body and mind+body practices to create alignment and well+BEING.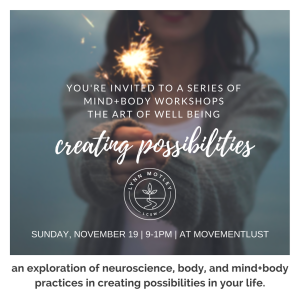 Safely Embodied: navigating the body's natural intelligence of the autonomic nervous system to support change.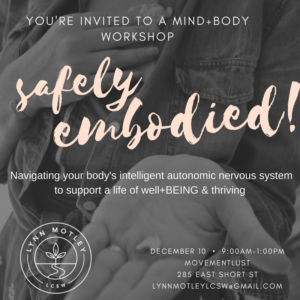 "Resilient Spirits: Courage Through Connection" –  a psychotherapy group based on Brene Brown's work
"Transforming Overwhelm Into Possibilities" – workshops
"Transformational Learning through body, moods/emotions, and language"